FEATURES

Dynamic Dashboard
Kualitee offers a powerful, interactive dashboard with complete updates on all the ongoing projects. It provides a bird's eye view of the entire status without having to buzz each member of the team every time an update is needed. Login, view status, test scenarios, test cases, and bug reports and plan workflow accordingly. It's as simple and as dynamic as that.

Project Management
Get the liberty to manage your project at your pace with our sophisticated Project Management tool. Manage everything under one umbrella and sync your projects with the testing requirements. Also put all your team members in the loop allowing them to update status followed by bug fixes.
Read more

Test Management
Cover your test management requirements effortlessly with Kualitee! Simply make a detailed test plan, write test scenarios, develop and create test cases and execute those test cases. For utter convenience, you can reuse the test cases in your regression cycles instead of spending ages creating a new one. Save your work in PDF and Word and use it whenever you need.
Read more

Defect Management
Kualitee does not only allow you to identify bugs, it allows you to track, organize, manage and resolve those bugs with greater ease and enhanced integration. So record, execute and manage the issues all in one place and perform more in less time!
Read more

Integrations
From pushing pipelines to syncing defects, creating custom tests to reporting bugs, Kualitee offers seamless integrations with multiple powerful apps to streamline workflow and sync data, giving you an enhanced experience that is fast, adjustable, and powerful. Manage your releases and collaborate with your teams without missing out on any mission-critical aspects without any disruptions. That's Kualitee's word!

Read more

Mobile App
With everything going mobile, why should testing lag? Kualitee gives you the liberty to perform all your testing tasks through its Mobile App. No need to worry about your projects suffering while you are on-the-go! 

APIs
We all have our favorites when it comes to tools in testing. With Kualitee, you can integrate your workflows with the Kualitee's APIs and minimize any probability of jumps during the task. Our APIs help your business grow bigger and better, and gain a competitive edge.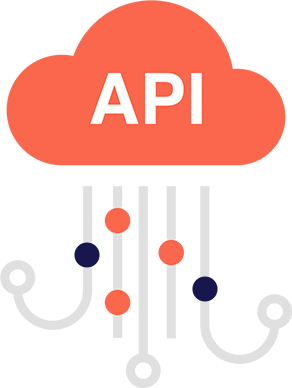 No Software Hassle
What's better than a tool that does not require you to spend time and energy on software or hardware installations? Kualitee, with its user-friendly environment allows you to work hassle-free anywhere, any time without the need for specialized software.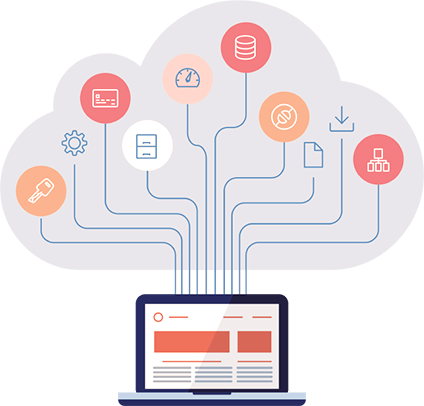 Laser Focus Visibility
Kualitee focuses on attention to detail and gives you a laser focus visibility into the software. Through multiple levels of reporting and formatting, you can easily access the stability & scalability status anytime. With hundreds of things to manage in a limited time span, Kualitee is the best help in executing multiple tasks at lightning fast speed. Get a magnifying view of every micro to macro level detail with Kualitee!

Flexible User Controls
Kualitee provides greater flexibility to the users which gives control in the hands of the users. Through multiple login options to the users according to the controls provided, QA engineers, QA managers and developers can perform authorizations and approvals with greater visibility to the team.

Multiple Test Cycles
Multiple test cycles on a single application is crucial to its progressive life cycle. Kualitee provides multiple test cycles for the same test case and provides the option to add new tests, if needed. This helps mature the application before its subsequent releases by handling your regression testing requirements in real-time.

Automation Testing
Experience state-of-the-art automation testing with Kualitee through our integration with Selenium-the ultimate automation tool. Minimize human intervention and error probability with automation testing, simply induct input-driven scripts in any Selenium supported environment let Kualitee do the magic for you.

Enhanced Security
Kualitee takes pride in its state-of-the-art security and privacy management. We are certified with the highest strength of SSL encryption, and the security tool is associated with identity management and role-based access permissions which tighten control over login gateways. Data backup is also ensured on regular basis for you to avoid losing any data. 

Roles & Privileges
Kualitee believes in designated roles and duties defining the authority to be exercised. It allows you to create roles and designate privileges to them in order to organize how authority is exercised. It also avoids overlapping of the roles and duties. The administrator allocates roles and privileges to each user.
Admin Tenant

Developer

Tester

Test Manager

Email Notifications
We take personalization so seriously that even the Email notifications are customized as well for dedicated roles. The notifications alert the relevant team members of the respective changes in a project underway.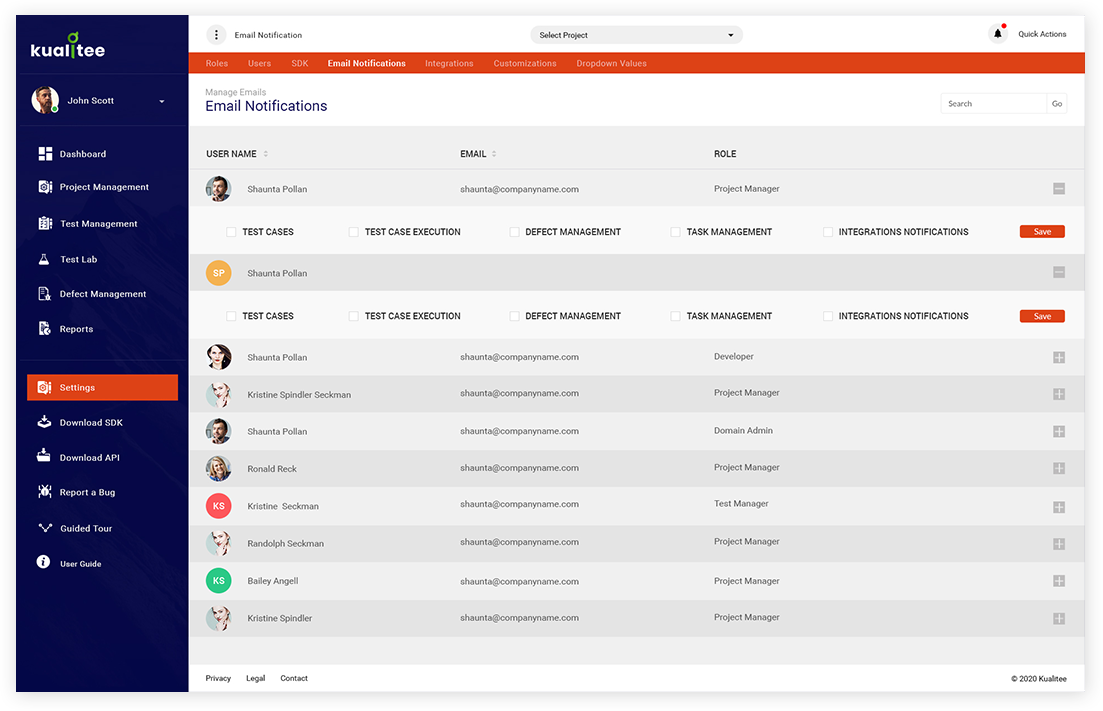 User-Friendly Interface
An interactive, user-friendly interface maps out everything conveniently as soon as you dive into the tool making test management all the more engaging and intriguing!

Single Sign-On
Kualitee's SSO feature allows you to authenticate users in your own systems without requiring them to enter additional login credential in Kualitee. Choose from a number of different SAML services and integrate it with your Kualitee sub-domain.