Dashboard
Three activities are shown here on the top of the dashboard, as follows:
Test scenarios: Stating number of Test Scenarios against project.
Test case: Stating number of Test Cases against project.
Defects: Stating number of Defects against project.
The following graphs are displayed.
Heat Map: Shows the health of each project by displaying the number of defects open and fixed.
Trend Analysis: Shows the current statuses of the defects.
Defects by Severity: Refers to the severity of the defect being logged with filter.
Defects by Status: Refers to status of the defect logged with filter.
Test Cases Status: Refers to the current status of the test case with filter.
Executed Test Cases: Refers to the test cases which have been executed with filter.
Pie Charts: Can be accessed by clicking on any bar graph to analyze the number of defects considered, which led to a particular result.
Test Case Progress: Shows number of test cases executed at specific intervals of time.
Defect Closure Efficiency: Shows number of total defects and resolved defects.
Active Defects: Shows number of unresolved defects against specific intervals of time.
Defects Reopened: Shows percentage of defects reopened against specific intervals of time.
Test Cases Fail: Shows percentage of failed test cases.
Bug Fix Duration Days: Shows the number of days it took to fix a particular bug.
Requirements Test Case Coverage: Shows coverage of requirements against cases.
Bugs Statistics: Shows status of bugs – reported, fixed, open and others.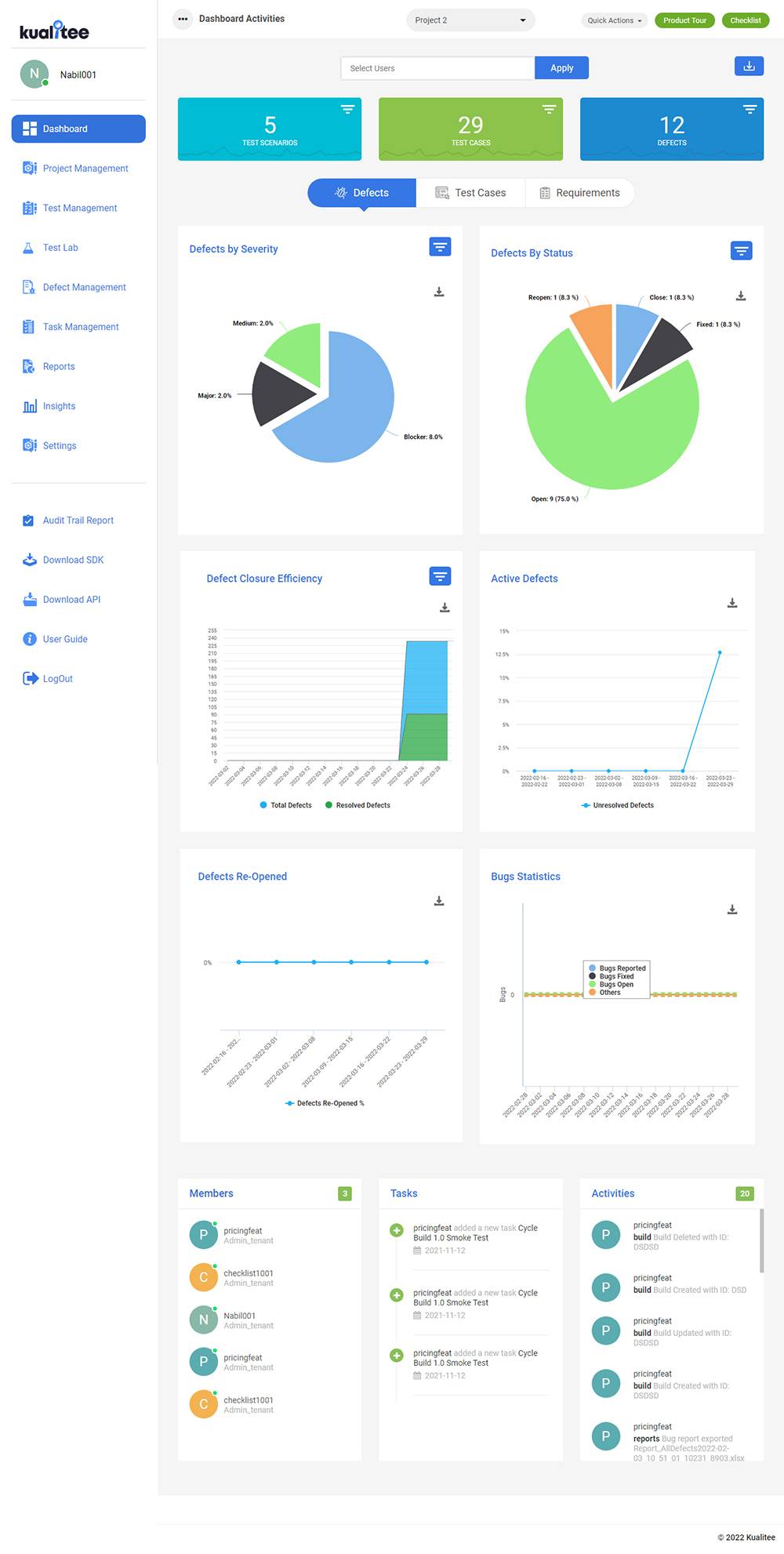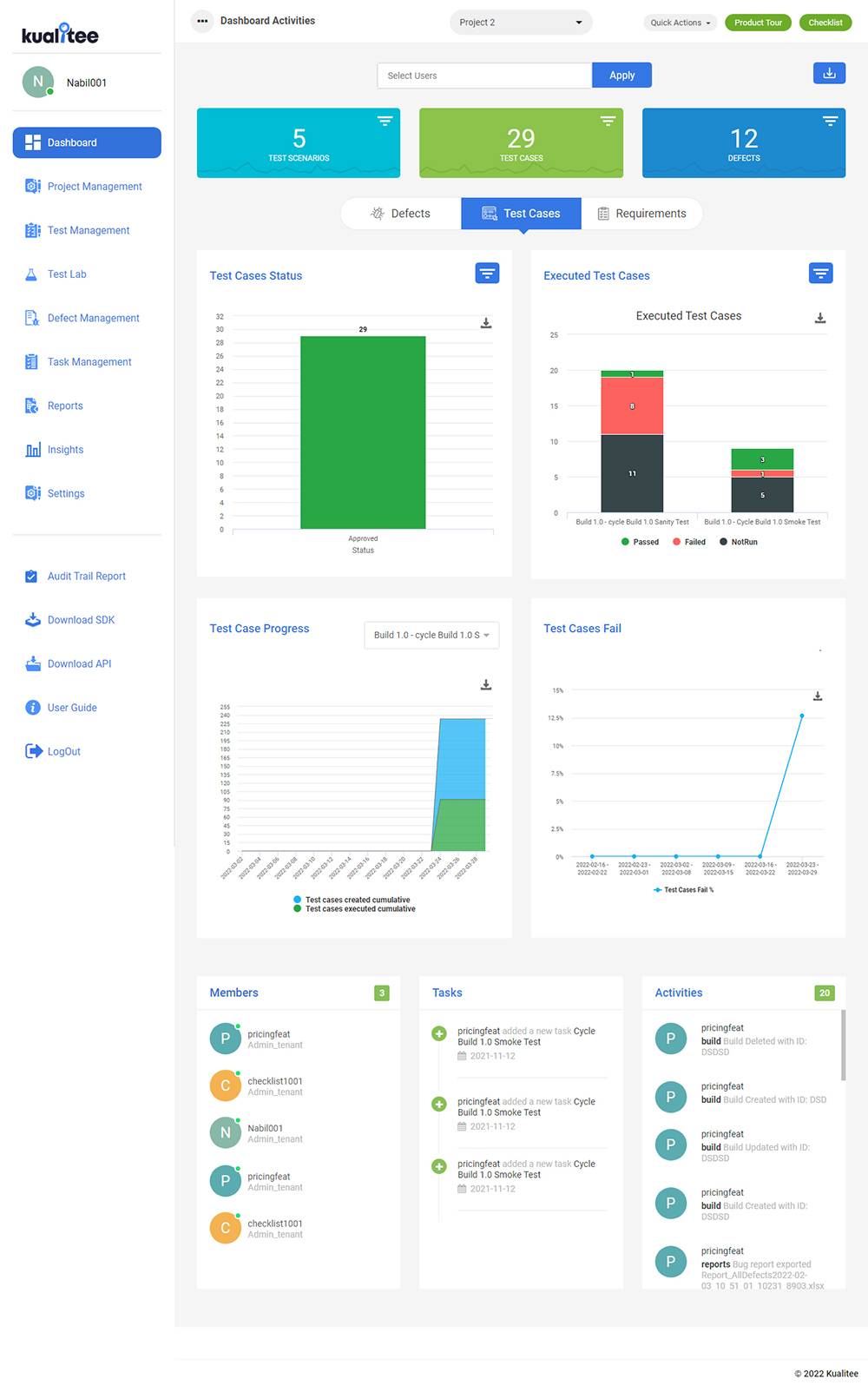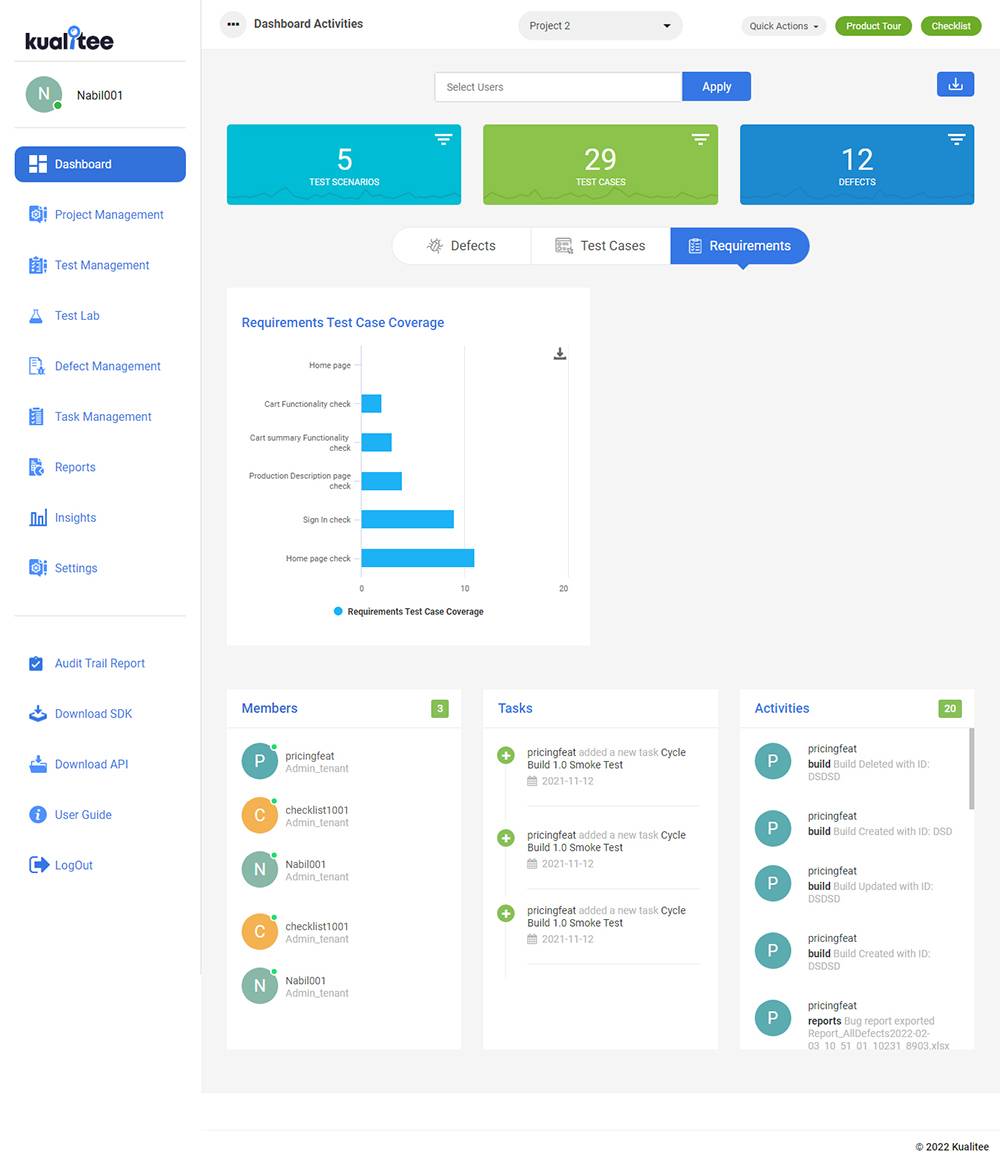 Global Dashboard
Along with our comprehensive Dashboard that is organized project-wise, now you will also be able to see a Global Dashboard comprising data related to Defects for all the projects you are a part of, in one place.
How this feature will help you:
If you need to see the data for all the projects, you can check the Global Dashboard and have a quick overview of all the stats of defects according to their type, priority, severity, etc.
Follow these steps to see the Global Dashboard:
1. Go to the 'Dashboard', click on the Project selection bar in the middle of the screen, and scroll to the top.
2. Click on 'Global Dashboard'.
3. Your Global Dashboard will be displayed and if you want to navigate to your regular dashboard, click on the 'Back To Dashboard' button.
Projects
The project screen contains a list of all your active and archived projects.
Create Project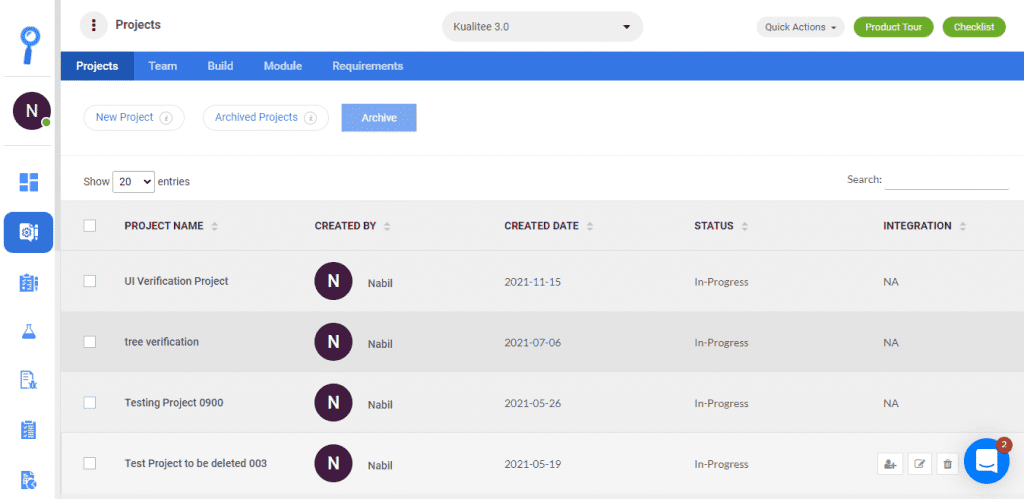 To create your project you simply click on 'New Project' button.
Not all testing projects are the same so you have the option to choose your project type and even customize the project type if required.
Choosing any project type will subsequently make any related OS, browser and devices field appear dynamically.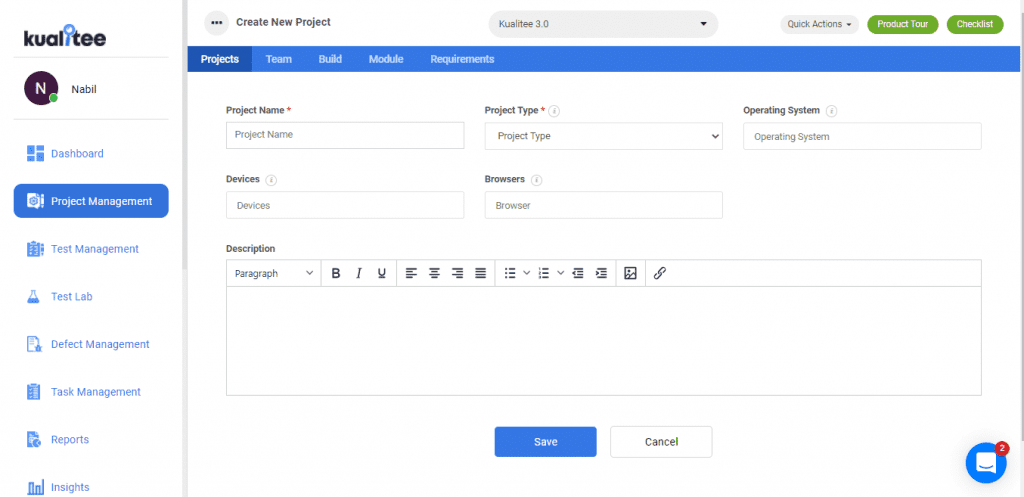 Fill out the following text fields to create your project.
Project Name (Project Name must be at least 5 characters long.)
Choose Project Type from project type drop-down
Choose the Operating system from the given Operating system drop-down
If you select Native Mobile Applications you can select device tab will appear to enter the devices.
"Operating System" field is now enabled
Write down any operating system in the "Operating System" field
Provide a brief description of your project
If clicked on "Cancel" link, the project will not be created and user will be redirected to "Create New Project" page
Once the details are final click on create to save your project. A success message confirms that your project is saved successfully.
Edit and Delete Projects
To edit project details, add users to projects or archive your projects, you simply hover the mouse to the list and click on any of the action buttons
Copy Project
When you click on the 'Copy Project' option, it will create a replica of the project you have selected. This will include all the data of your existing project, and save it as a newly created project. This data includes the build, modules, requirements, test scenarios, test cases, defects, and tasks, with all their associations.
How this feature will help you:
If you need the same data for another project, you can simply copy this project and save yourself the hassle of creating all the data again in a new place. All you have to do is copy the project, thus saving time and effort!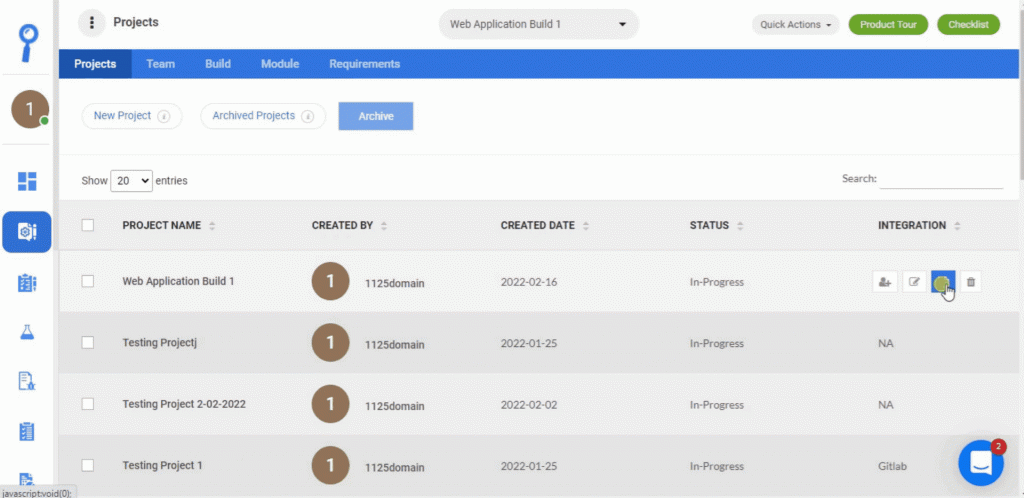 Follow these steps to Copy your existing project:
1. Go to the 'Project Management' tab. You will land on the 'Projects' page.
2. Hover over the project you want to copy and click on the 'copy' option.
3. Your project will be copied and will be available in the projects list.
'Add Users'
Hover your mouse over the first icon (i.e. 'Add Users') given in the row of 4 icons beneath 'Integration'.
When you click on it, a pop-up will appear with a list of users available in the domain. You can select the users of your choice and add them in your project.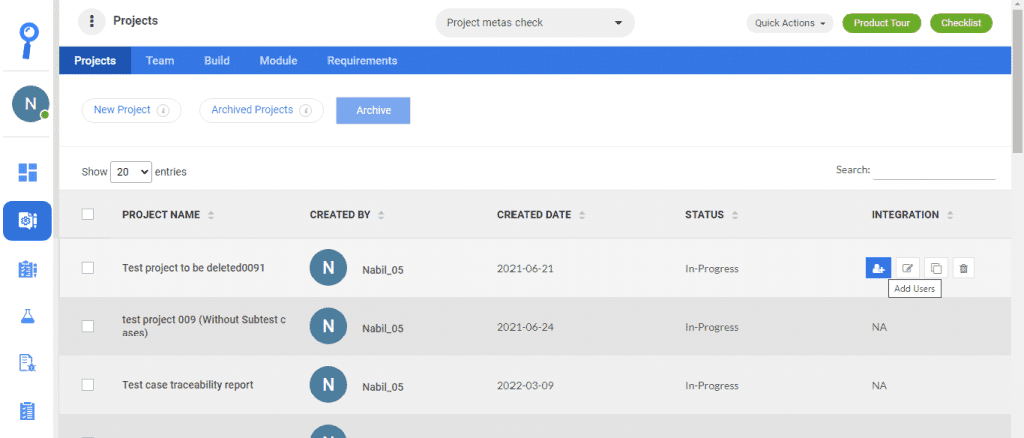 Archived Projects
When you click on 'Archived Projects', you will be able to view all your archived projects. You can either restore or permanently delete them.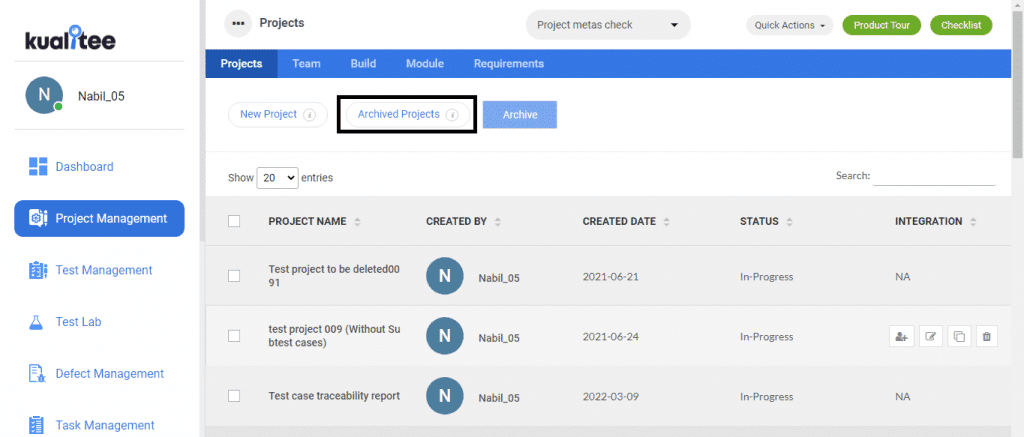 Team
Team Management on the project level can be done through the team page in project management.
Users on Kualitee domain can be assigned to different projects. In case, a new user needs to be added you can click on add new user to start with adding a user to the domain first.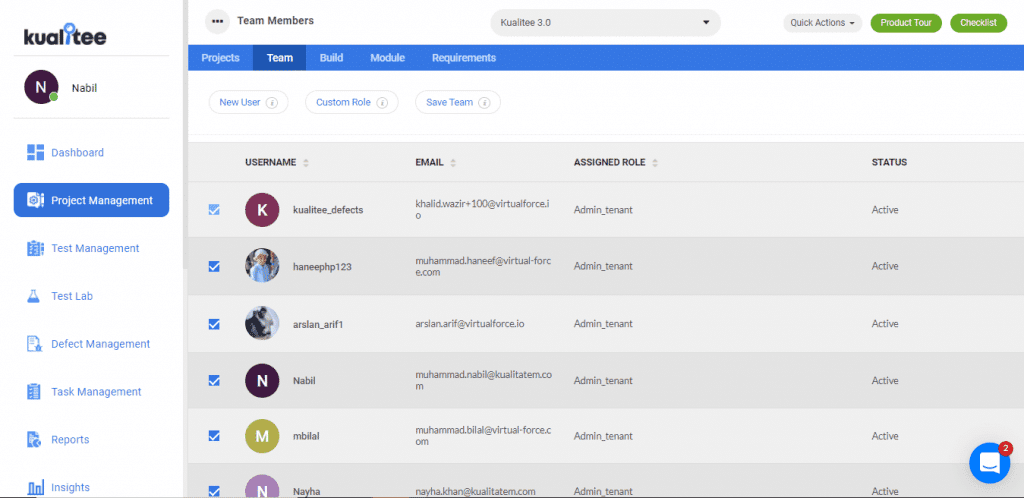 In User, you simply provide First Name, Last Name, Email, and the role that you would like to assign to this user within the project you want the user to be added.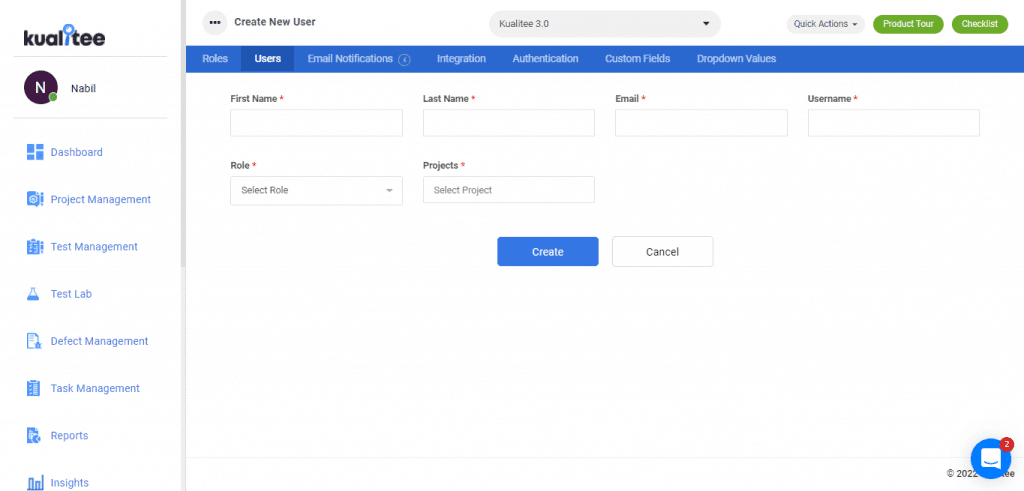 Builds
The build is the process of naming and providing the details of the software build/iteration/sprint that you would be testing as part of your project. Each project can have multiple builds.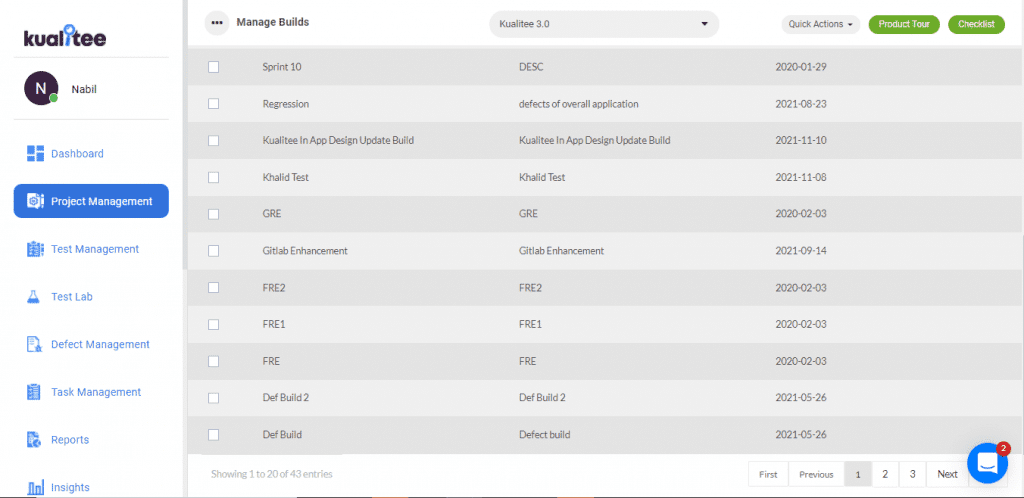 Creating a new build
Ensure that a Project has been selected from the 'Select Project' drop-down within the left menu
Select the 'Build' tab within the Project Management Tab to create a new build
User will be redirected to 'Create New Build' page.
Click on 'Create Build' Button
Fill the following fields:
Build ID
Start date
End date
Users
Description
Click on "Create Build" button
To edit and delete the build hover the mouse to the list.

Module
The next step after build creation is of modules.
Each build within a project can contain multiple modules. The Module Management screen will display a list of all modules within a specific build.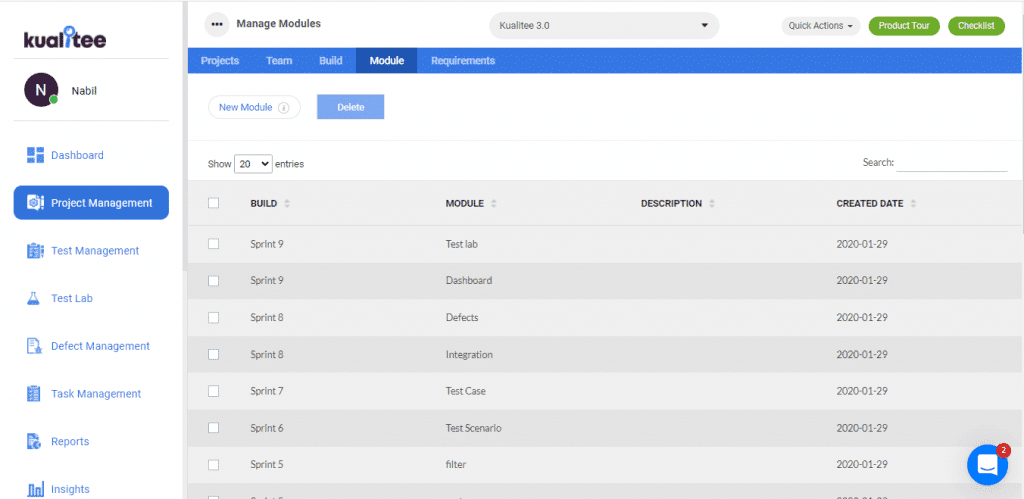 Creating a Module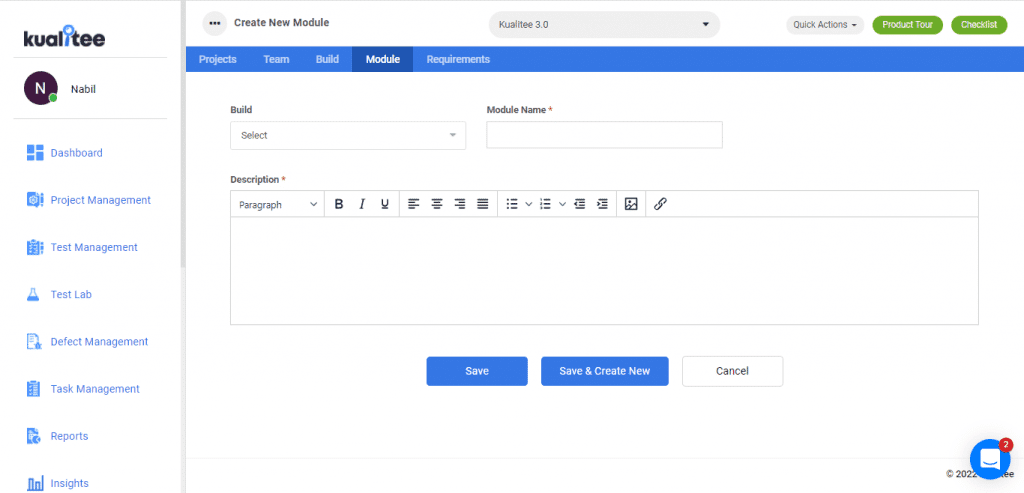 The Module Management screen will display a list of all modules within a specific build.
Ensure that a Project has been selected from the 'Select Project' drop-down within the left menu
Ensure that the build has been created before module creation
Select the 'Module' tab within the Project Management Tab to create a new module
Fill the following required fields:

Select a build
Module name (Module Name must be at least 3 characters long.)
Description

Click on "Create Module" or on "Save and Create Module" button
Editing or Deleting a Module
You can edit or delete a module by hovering the mouse on the listing.

Requirements
You can use requirements planning to associate your existing test scenarios and test cases with parent and sub-requirement.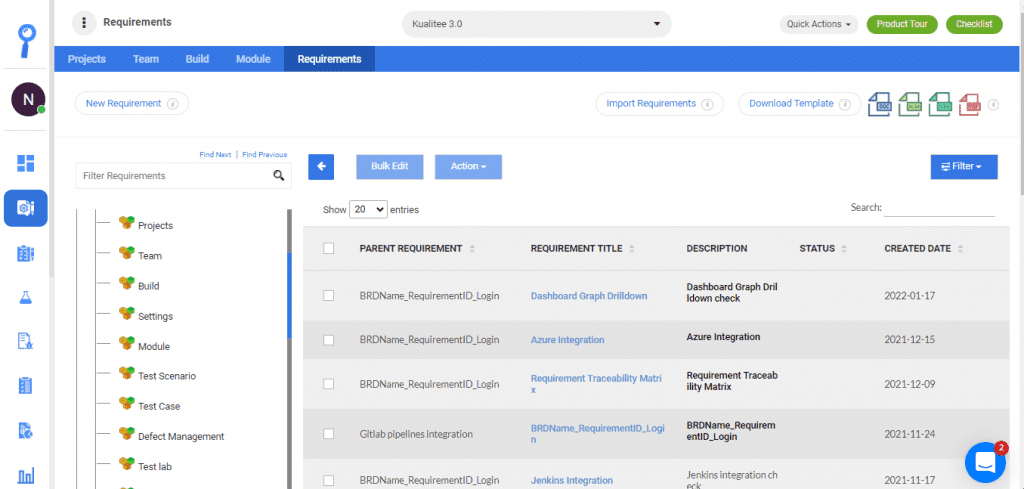 Creating Requirements & Sub-Requirements
To create requirements, you simply go to project management, select requirements, and click on create a requirement. Your first requirement is your parent requirement and you can assign sub-requirements by selecting the parent requirement from the drop-down. A parent requirement can have multiple sub-requirements and the user can also associate test scenarios and test cases with these sub-requirements.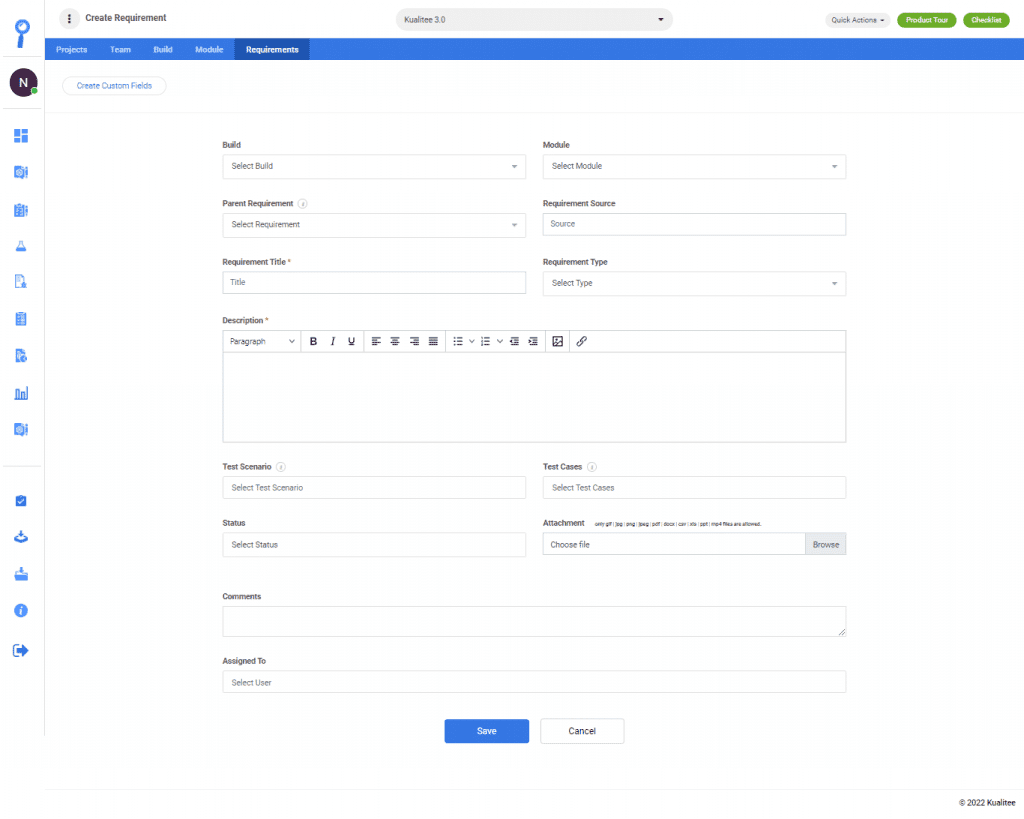 Associating Test Scenarios and Test Cases
If you already have test scenarios and test cases in your project, you can associate them with your requirements, or you can edit your test cases in Test management and select the requirement from the drop-down field.
Import & Export Requirements
To import your already created requirements you can simply download the CSV template and enter all the relevant information including your test scenario and test cases if you want them to be associated with your requirements. This will automatically create all the entries and populate the information.
Note: Kindly make sure that all the fields are mapped properly to avoid any issues.


Bulk Edit
You can edit your requirements in bulk. When you tick the checkbox against your requirement, you will be able to see the "Bulk Edit" option. Click on it and a pop-up will appear. You will then be able to update the associations of your requirements in bulk also you can edit your custom created fields too from the "Bulk Edit" option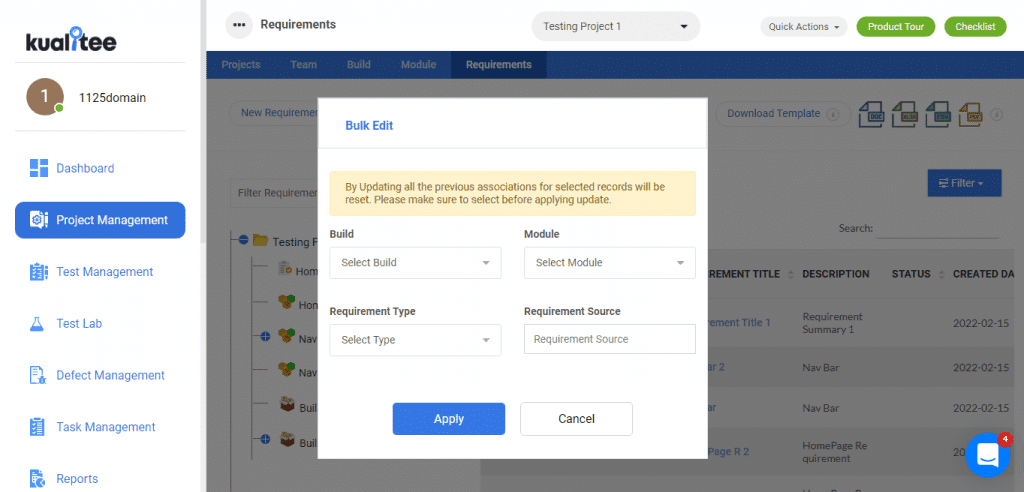 Action Buttons
Clicking on 'Action' will give you the options to 'delete' or 'copy' your requirement.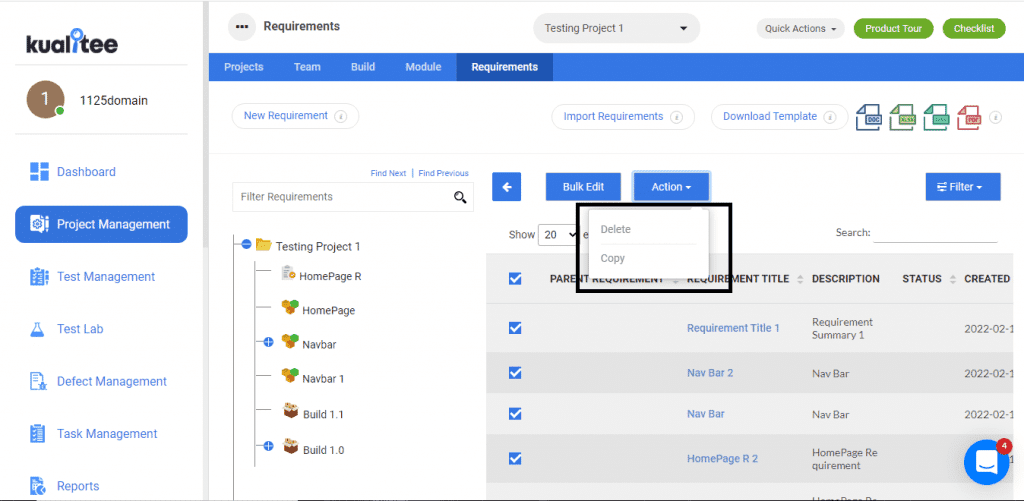 Filters
You can filter your requirements by the below-mentioned filters. You can also save your filters by ticking the 'Save my Setting' checkbox.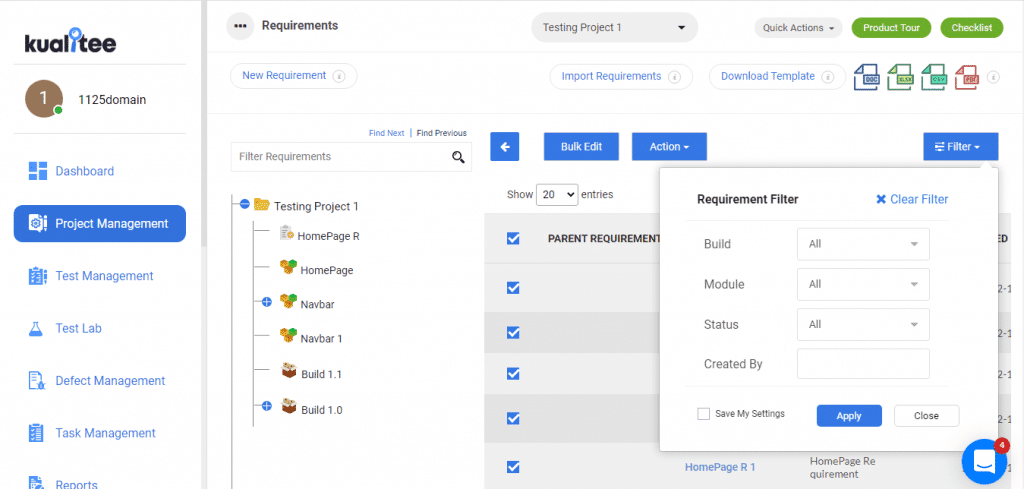 Customize Listing:
You can now view your custom fields in your listing pages from the custom listing option.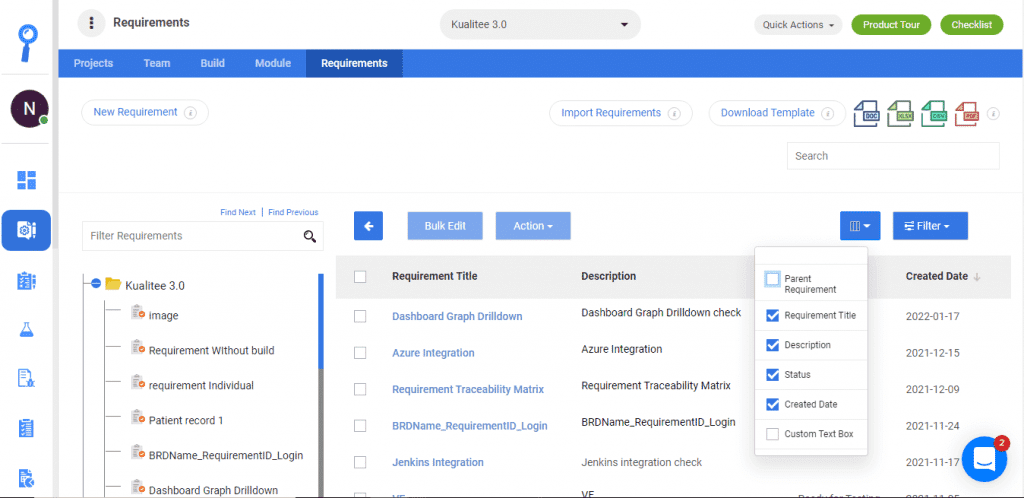 To add customize your listing pages, follow the steps below:
Click on the "Custom Listing" option.
Select the fields you want to view in your listing pages, and they will be displayed.
Test Cases
The test case contains a summary, test steps, precondition, postcondition developed for a specific test scenario to verify any requirement. Multiple test cases can be associated with test scenarios and requirements for any build and module.
Creating a test case
Ensure that a Project has been selected from the 'Select Project' drop-down on top bar
To create a new Test Case select the 'Test Case' tab from within the Test Management tab
Click on the "Create Test Case" button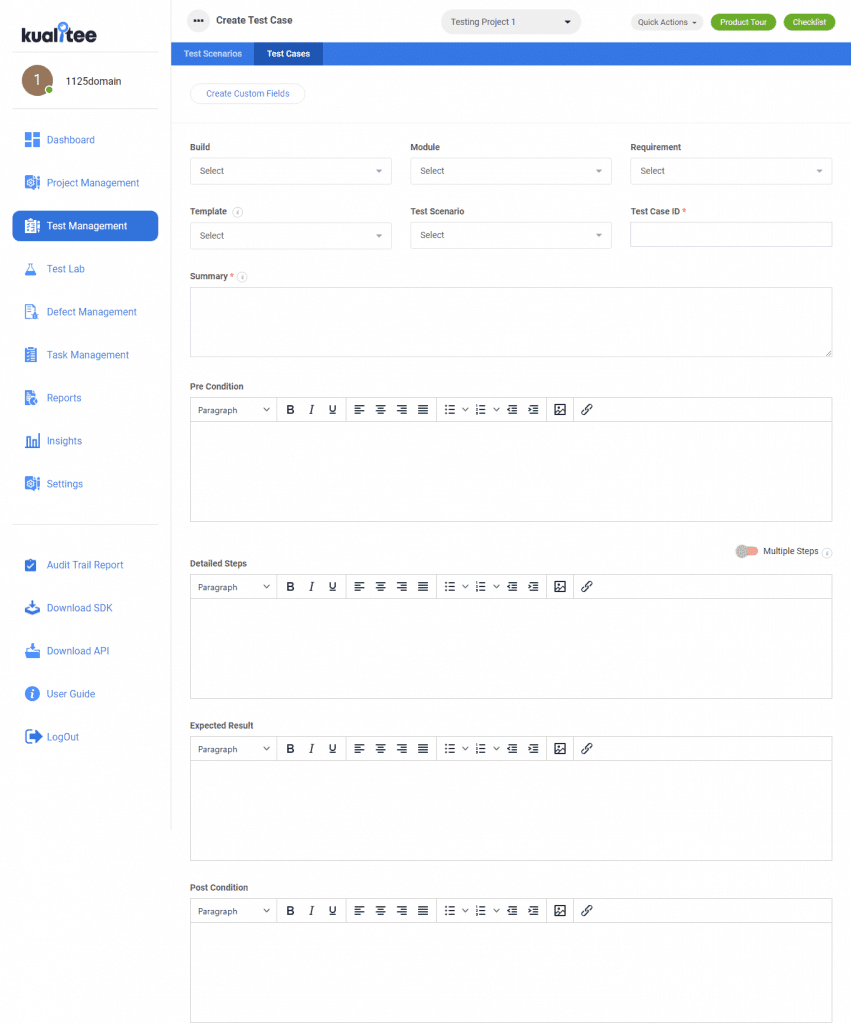 While creating a test case, Test case ID and Summary are compulsory fields. While others are optional fields.
Kualitee by default has different roles with a specific set of permission. If you are a tester creating test cases, you will need to get them approved before moving them forward for execution. By default, your domain admin, test manager has the permission to approve test cases. You can ask for approval with each created test case or in bulk when importing them.

Test Case Steps
Now make your test cases more granular by breaking down detailed steps into smaller yet precise actions with well-defined expected results and attachments.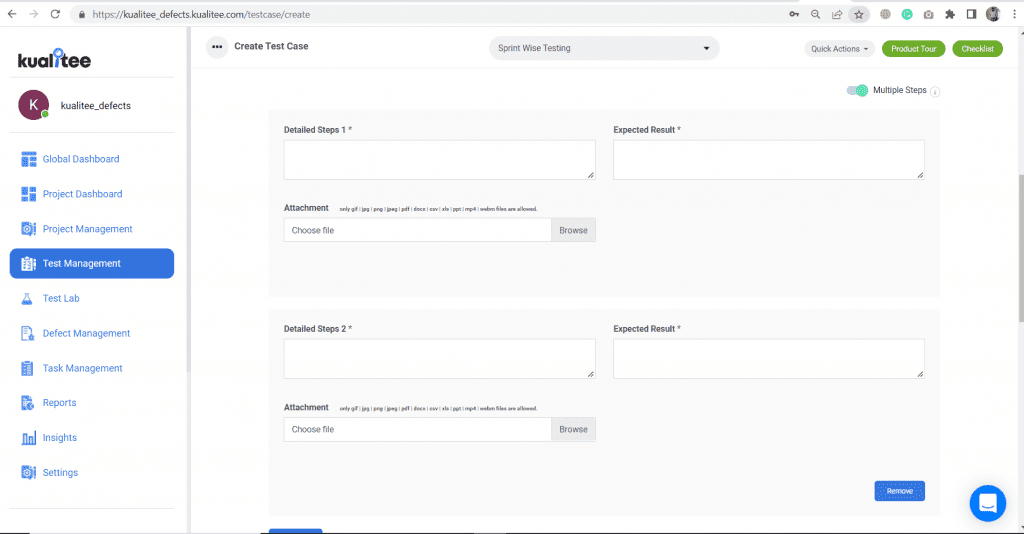 Add more Test Case Steps while Updating Test Cases
You can add more steps while updating the test case, according to the steps below.
Step 1: Click on Add Step
Step 2: Add the Steps Detail and Expected Result
Step 3: Click on Create Button for Adding More Steps
Import and Export of Test Case
Additionally, you can also import your already created test cases, you can either upload your own copy and map the fields according to Kualitee fields using the in-app mapping wizard or you can download the template and use that to upload your list of test cases.

You can export your data in three different formats CSV, Excel, and Word. Click on any of the icons will get your file ready for export and prompt you when it's ready for download.
Bulk Edit
You can use the bulk edit option to change associations between data e.g build, module, requirements and test scenarios associated with your test cases can be changed using the bulk edit option for selected or otherwise all of the items in the listing. Also, you can edit your custom created fields too from the "Bulk Edit" option.
Note: Associations once changed cannot be reverted back to an earlier state.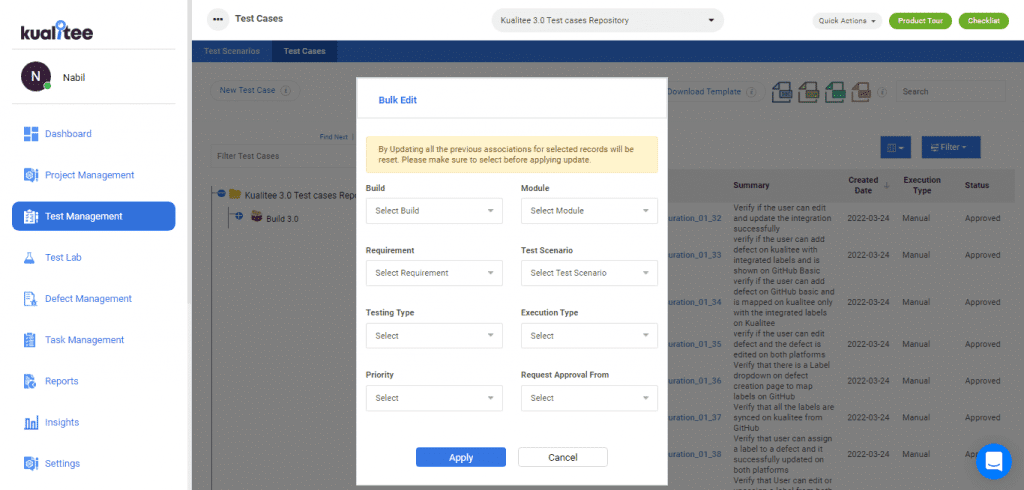 Bulk Action
Save as copy: You can save a copy of your selected test cases, in the same project.
Save as template: You can save a test case template, so you don't have to create a new one when making the same kind of test case again.
Status: You can assign a status to your selected test cases as Approved/Rejected.
Delete: You can delete your selected test cases in bulk.
Copy to project: You can copy your test cases to another project as well. (Note: No associations will be copied, only the test cases will be copied).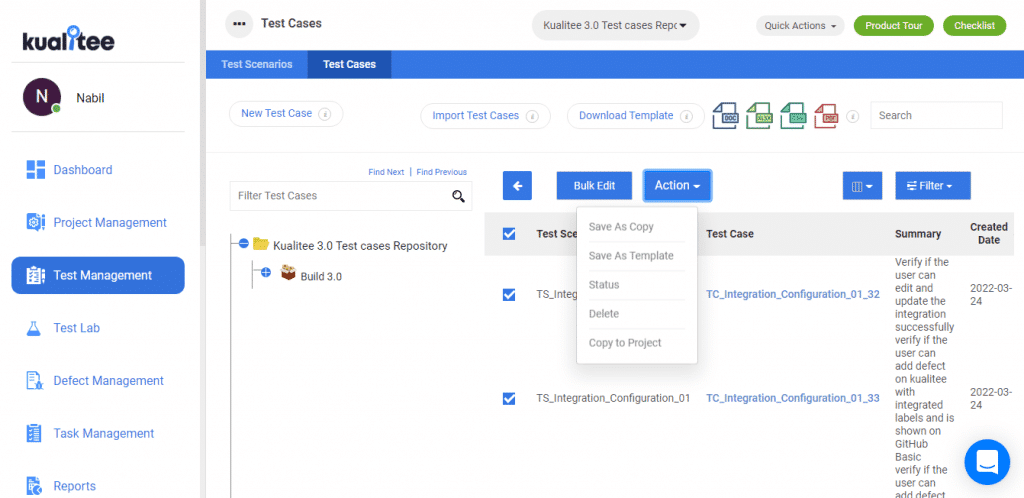 Filters
Multiple filter options are available in the Test Cases tab to filter the test cases according to your requirements.