Test Case Management
Thorough test coverage, reusability, and fast execution of test cases with intuitive drag and drop interfaces and workflows. The tool enables manual and automated testing with simple and powerful dashboards and reports. Kualite empowers you to maintain an organized test case repository you can trust and reuse. From planning to execution, team resource allocation to test case results, easily wiggle through the software testing phase with Kualitee.
Read More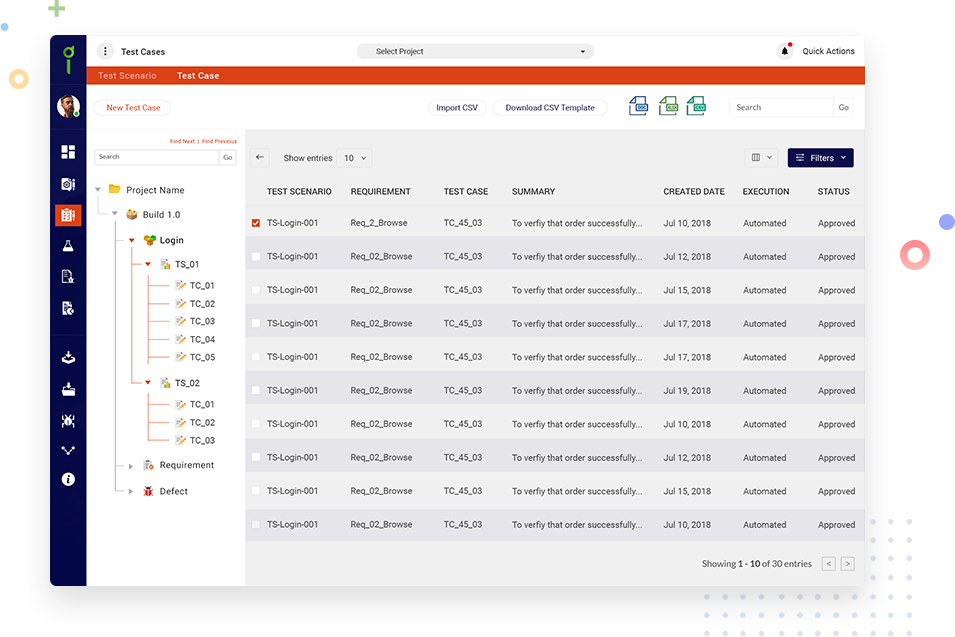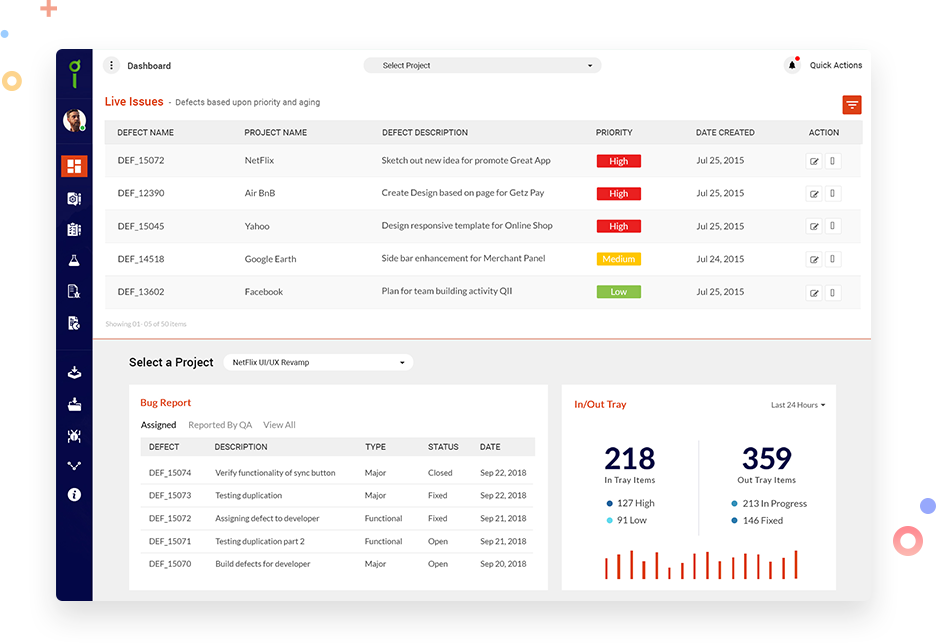 Defect Management
Timely and collaborative testing with defect identification, tracking and reporting. Link defects with test cases in real time at the time of test execution. Log the bugs as they appear with unlimited attachments including image, audio and videos for tester's knowledge, so test cycles can be run in real time with ease and accuracy.
Read More
Project Management
Organize and implement better testing with project, team, build and requirement management. Project Management tools help manage and coordinate the tasks during the life cycle of one or multiple projects, while keeping all team members aligned to each task. You can customize your roles, permissions and notifications to suit your specific project needs.
Read More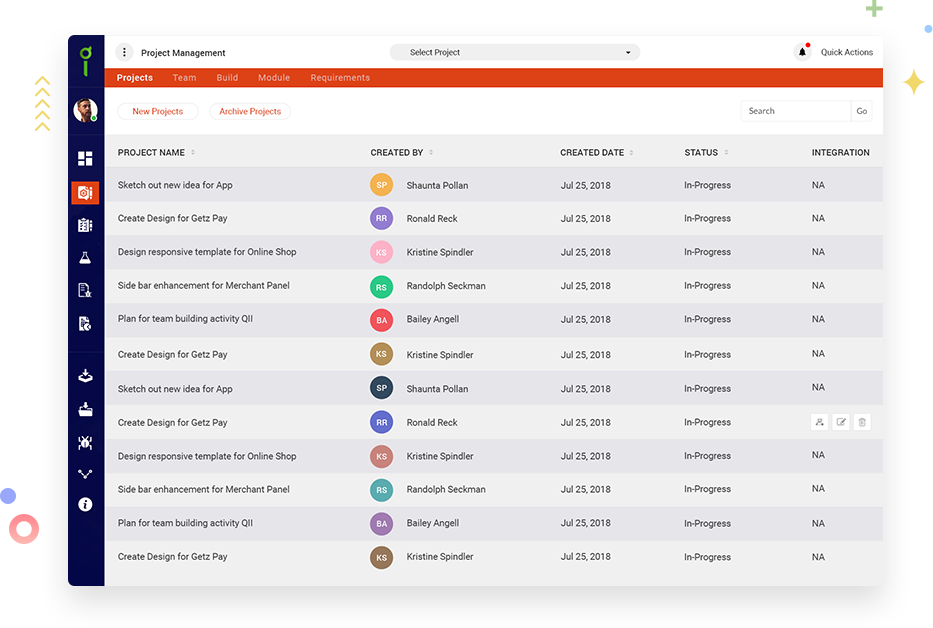 Personal Dashboards
Assess, plan, & work, with a constant view of metrics with user-friendly dashboards

Custom Reports
Stay updated about test process with Test incident, bug report

Configurable Profiles
Customized profile privilege to limit user access with different cadre of profiles

Custom Reports
Stay updated about test process with Test incident, bug report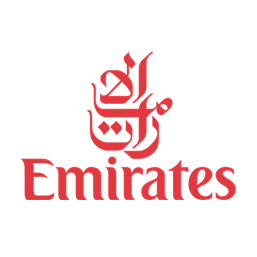 I have seen the view Kualitee has made a huge difference to the way we manage our testing; right from creating test cases and testing new builds to scheduling tasks and assigning testers. This is exactly what we needed. The easy-to-use interface and structure allows anyone to come in and start working on it without any hassle. We are able to manage our tasks and results efficiently and professionally. Tracking productivity and providing reports has also become a whole lot easier with good visuals on progress.
Muna Mahmood
Senior Test Engineer - Emirates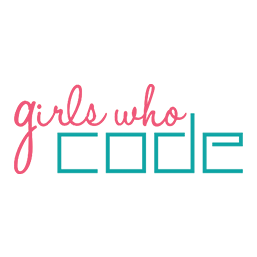 I would absolutely recommend Kualitee. In addition to the great features offered, their customer service is excellent. They are responsive and have always come up with a solution to any problems. It's a web based solution which doesn't require any additional set up. Overall, the quality of our products have improved since setting up a formal testing process with the help of Kualitee
MARIE PARENTI
Test Manager - Girls Who Code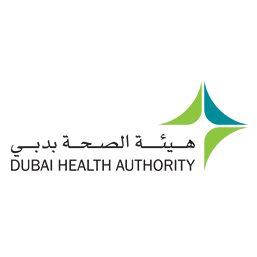 We have been using Kualitee as defect and test management tool in my organization for the last three years. Its user-friendliness, interactive interface and reusability of test cases are the highlights of the tool and make it super easy to manage work. Highly recommended to use it as test management tool. Introducing parallel execution of test cases and some integrations with other project management tool will enhance the features of Kualitee even more
ANAM KHUREM
Test Manager - Dubai Health Authority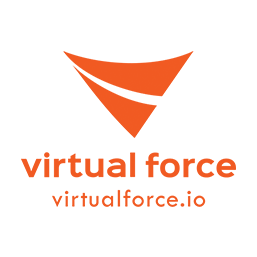 Kualitee allows us to create test scenarios, test cases and reuse them for different projects. I think this is probably the only tool that helps to follow the QA process diligently and reuse a lot of your earlier work. We have been using the tool for more than 2 years now and it has become our standard QA management tool company wide. I am glad that the recent Mobile SDKs and integrations with Jira is available which makes our life even more simpler
Tanzeel Ur Rehman
COO - Virtual Force
We take pride in 500+ teams across 72 countries around the globe that rely on Kualitee for their testing and test management activities every day.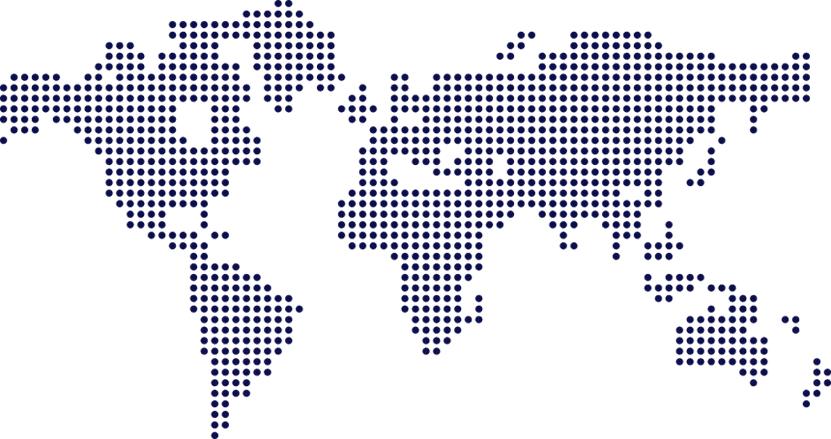 Mobile Readiness
Kualitee Mobile App makes you run through testing plethora including, projects, creating defects, approval or reject test cases as well as dashboard friendliness to stay updated on the go.

Shake to test
For your convenience, simply shake the mobile phone to report any defects or carry out feedback activity.

Listings
Don't miss any important information or listings including test scenarios, test cases, defects etc.

Web & Mobile
Synchronized web and mobile management is a big feature that enables ease.
Integrations Aligned
Test your products with integrations that systemize and manage efficiently. Defects or execution of functions can be taken care of in a fashion that suits your ease as you choose from multiple tools.
Way more than just Management
Software testing can be a tricky business, but Kualitee makes it all fun with an interactive and robust interface. It allows performing all testing tasks in one environment, with its numerous high-end integrations to simplify test management for you.
Kualitee is a user friendly and comprehensive test management tool that encompasses all functions significant to software testing. With well-rounded integrations, you can work with the best features of various tools while testing with Kualitee. With features like test management with test cases and test case executions is a big plus. Issue tracking and defect management also play a pivotal role in any test management tool and that is what Kualitee offers. One of the key features, allows you to constantly keep in touch with the entire team and monitor the progress of the project with a dynamic dashboard that shows powerful metrics. The interactivity of interface and reusability of the approved test cases makes it easy for you to manage all your work under the umbrella of Kualitee.
Kualitee also allows multiple test cycles to be run at one time. You can also configure profiles to designate specific roles to the members of the team. The APIs attached with the tool automatically streamline everything and make testing feel like a breeze to you.
RECENT BLOG POST
Read through our list of blogs featuring the latest QA trends, reviews, insights on software testing and beyond