Software Test Plan Template
Organize your testing project from start to end, with our free, user-oriented template.
Free Download
Our Test Plan Template Will Help You
Create a detailed roadmap for your testing project
Be able to monitor progress
Keep complete record of what was tested, and how
Enhance your productivity and organization
Simplify your testing process
Download Now
Never Miss a Step With Our Test Plan Template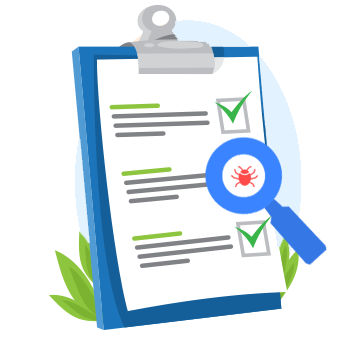 With a plethora of test plan templates out there, it takes a lot of time and effort to pick one out. Thus, we have curated a comprehensive, yet easy to follow, template for you--one that you can customize according to your testing needs.
You can use our Test Plan Template as a detailed roadmap to your testing project, and use it to track progress along the way.
With interesting examples, useful tips, and a neat layout, our template will not only make your testing project simple, but also fun.
Frequently Asked Questions (FAQs)
What is a test plan template?

Simply put, a test plan is a detailed roadmap for your testing process, that outlines all the required steps that have to be followed in order to achieve the desired outcome. It gives direction to your project, provides insight into what steps are to be prioritized and how much time each will take, and can be shared with the client to keep them abreast of how the project will be carried out.

How do I use a test plan template?

You don't have to do much, since we have already created the overall structure for you! All you need to do is download our template, and apply the given framework to your testing project. You can easily customize it according to your needs.

Is this completely free?

Yes! After all, we want to make your lives easier. Be on a lookout for more free templates

What does this test plan template include?

Some of the sections of our comprehensive template include: test strategy, test methodology, test deliverables, resources, estimations, and much more!

Why do I need to fill out the information requested?

We ask for your details so that we can curate content according to your preferences and needs, and send information to you that we think you may find useful. Don't worry, your details are safe with us.
Testing Made Simple.
Improve your testing projects, with the help of Kualitee.
We take care of your testing needs from start to end.