With a test management tool, you can keep a complete track of testing activities, as well as visualize progress very easily. It facilitates teams to plan and write test cases, execute them, log and assign defects, and generate different types of reports. It also allows you to monitor progress of all team members, which helps keep everyone on the same page.
Even a minor error in recording crucial project information can have disastrous consequences. Hence, to keep track of all of data, a test control software is likely to work in your benefit and significantly pull up your testing game.
Therefore, we are here to make your lives easier by presenting to you a comprehensive list of the best test management tools. All tools below are discussed in depth, with detailed pros and cons, to ease your decision-making process and ensure that you end up with the test management tool that best suits your needs.
1. Kualitee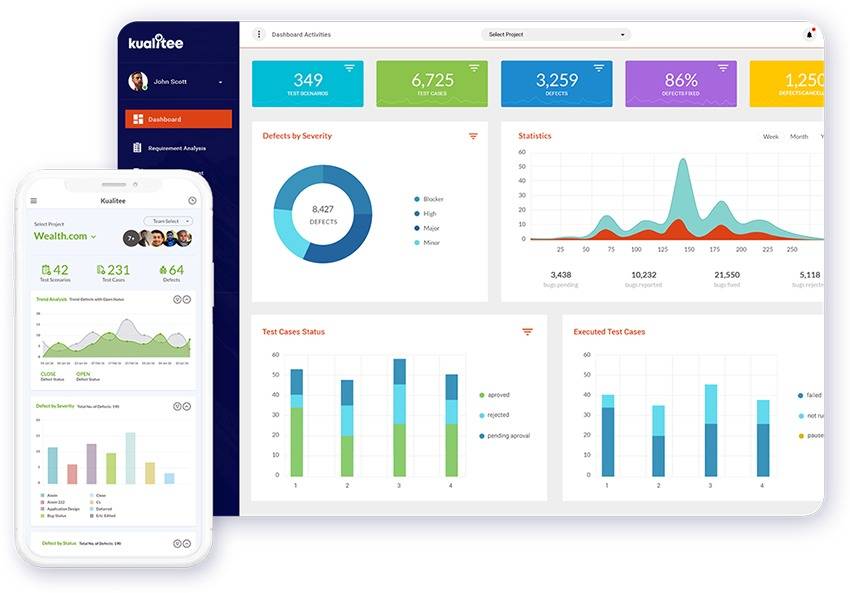 Kualitee is a very practical test management tool that helps you track and visualize all your testing from a single place. It gives complete traceability through easy linking between tests, executions and defects.
It has a user-friendly dashboard with stress-free testing KPI's and metrics, all of which help you to streamline your testing process.
Kualitee is an ever-useful tool for using across multiple projects, as a result of its easy reusability and the functionality to replicate test cycles.
In addition to this, this QA testing tool provides seamless integration with tools such as Jira, Selenium, GitLab, and Asana.
Now, let us look further into this tool by weighing both its pros and cons—we repeat, we want to make your decision-making process easier!
Pros:
– Manage all your testing with complete traceability, test case management, issue tracking, and custom reporting, all from a single tool.
– Import and Export requirements.
– Facilitates building of test cases.
– Bugs detection.
– Allows you to make a hierarchical tree out of the test cases and suites.
– Custom dashboards for test managers, developers, and testers.
– Mobile app to view the latest insights, track team's progress, log and assign bugs on the go.
– In-app customer support.
Cons:
– Limited language support for automated testing.
– Only allows imports in CSV format.
2. Qase
Qase is on Best Test Case Management Tools list and has a modern and minimalist GUI and features designed for QA and Dev teams.
The comprehensive range of features includes test case management, defect management, test strategies, test runs with detailed documentation, a rich API, and webhooks.
Qase integrates with a variety of common problem trackers, including Jira, Redmine, and Trello. You can create a problem without exiting the program, and it will be instantly posted. When you want to be updated when test runs begin, Slack integration is helpful.
You will integrate with your automatic testing and post reports directly to the app using the REST API. Webhooks will assist you withbuilds in your continuous integration system.
Pros:
– Composing test cases takes less time with shared steps.
– Your testing phase can be accelerated by using a smart wizard for a test cycle.
– Verify modifications to the test model through a test case review.
– Lets you assign test cases to your teammates and write a test plan.
– Good defect management.
Cons:
– Very few statistics and no option to add your own dashboards.
– Shared steps cannot be grouped according to subject or category.
3. TestCaseLab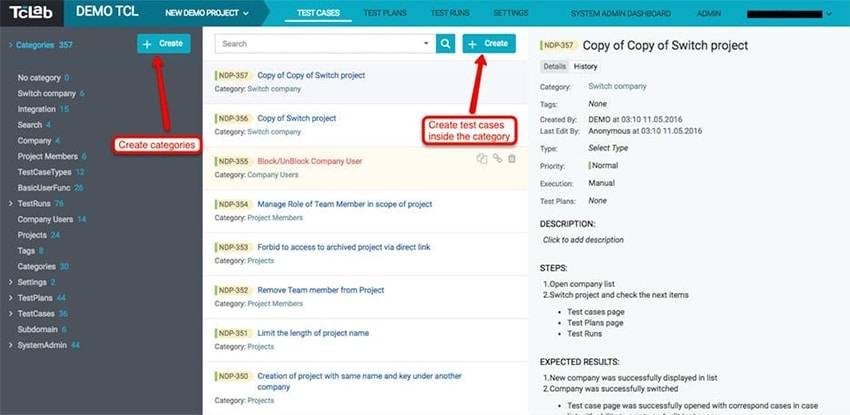 TestCaseLab helps you to keep track of the majority of testing tasks, such as designing test cases, categorizing them, organizing them into test schedules, beginning test runs, and submitting reports to Jira. The most basic package begins at $40 a month for 500 test cases, and there are no additional fees per user.
Pros:
– Users and projects are not regulated.
– Jira, Redmine, Pivotal Tracker, Asana, YouTrack, and Trello are all integrated.
– Test cases may be exported and imported.
– A wide range of test case properties are available.
– Running of tests and assigning users.
– Results of test cases are recorded at each point of the test.
– Reporting/insights at a simple level.
– History record and activity stream.
– Synchronization in real-time.
Cons:
– Test plan is limited to one project.
– Little clarity between test cases and test runs which may cause confusion.
4. Testuff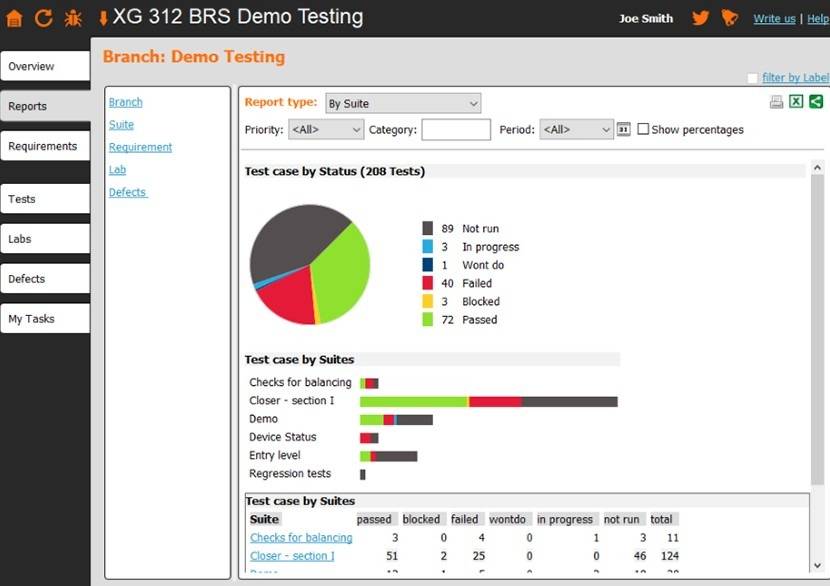 Testuff facilitates teams to report and handle a large number of tests, testers, programs, and defects. It is safe and has a fully backed-up environment. Projects, divisions, and structured suites can all be used to arrange tests in Testuff. Data from an Excel sheet can also be imported and exported.
Pros:
– Any number of bug trackers can be integrated.
– Twitter integration to interact with your colleagues.
– Add a video to the defect reports.
– Assign particular testers to specific tests.
– Use several labs to schedule a test cycle.
Cons:
– Only supports 12 users per session.
– A bit pricey.
5. Xray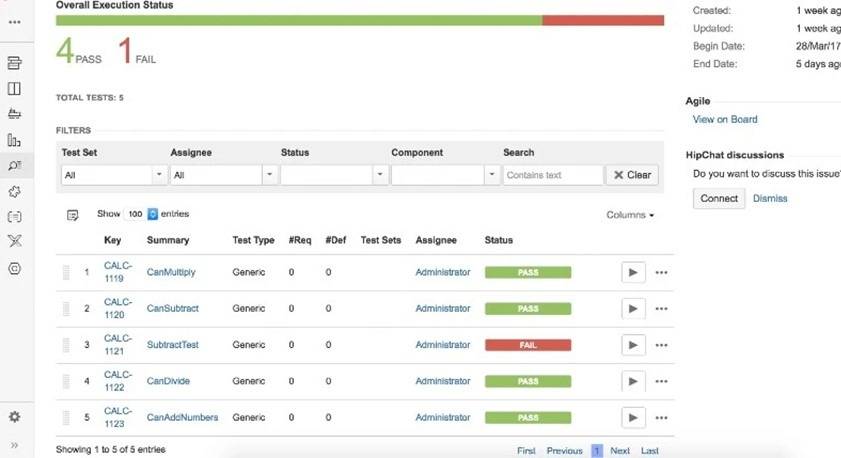 Xray is a full-featured tool that is placed within Jira and works within it. Its mission is to assist businesses in improving the consistency of their products through efficient and reliable research. They will prepare, conduct, and monitor their research with complete traceability of specifications.
Apart from JUnit, NUnit, Robot, and others, Xray supports both manual and automatic checks, including BDD using Cucumber. It includes the entire testing life cycle, including test preparation, test specification, flat or hierarchical test organization, test implementation, and test monitoring.
It accomplishes this by using unique Jira problem forms, allowing you to make good use of all Jira features, while also letting you coordinate features within the same project or through several projects with simple divisions..
Pros:
– Integration with continuous integration tools including Bamboo and Jenkins.
– Custom fields for each issue type.
– Ability to work logs in test execution cases.
– Xray issues can be assigned, with addition of and watchers.
Cons:
– Work is limited inside Jira.
– No feature to manage requirements or user stories.
6. TestMonitor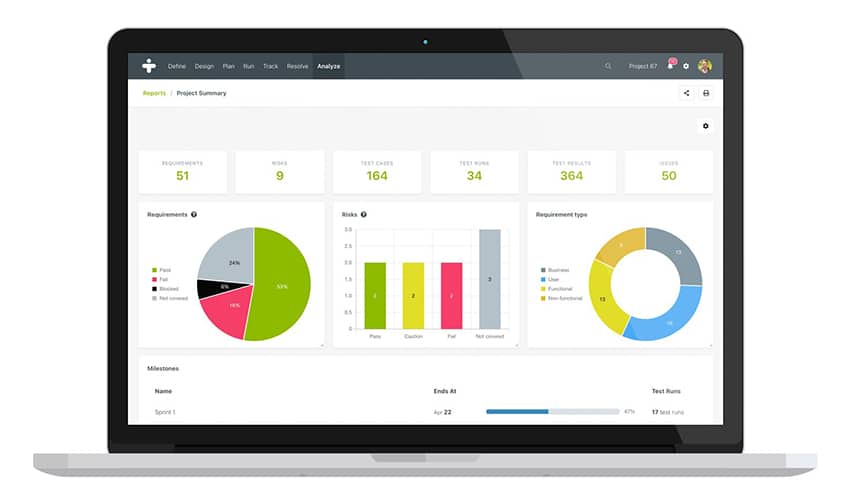 Test Monitor offers complete solutions for IT user acceptance testing. It supports features like test management, requirements, planning, running tests, test results, resolving issues, and reporting. The tool has an integrated issue tracker with features like filters, prioritization, a full history trail, attachment handling, commenting, and time management. It has a structured testing approach with a streamlined process of tracking test results. TestMonitor is one of the best test case management tools, as it has you covered whether you're installing commercial applications, developing a high-quality app, or if you just need some assistance with your test project.
Pros:
– The test approach is structured to make complex projects straightforward and comprehensible.
– It is easy to manage large amounts of test cases as Test Management Tools have a test case editor that gets test cases running in minutes.
– It is easy to prioritize test cases, analyze risks and get a grasp over the project's outcome by using requirement specification.
– It is convenient to schedule sprints, releases, or iterations to organize test runs as you can use milestones to mark events for the team.
– The user interface can be used by all. You can execute test runs at any place and time without requiring any prior experience.
– The tool allows tracking workload of the entire team with real-time status and progress reports for test runs, test cases, and issues.
– It integrates with Slack, Jira, and other software testing tools.
Cons:
– The system does not support all parts of the processes to be tested automatically. Scenarios have to be created manually.
– Adding print screens does not work when Java plug-ins are not up to date.
– It does not support mobile app testing.
– There is no SDK feature.
7. SpiraTest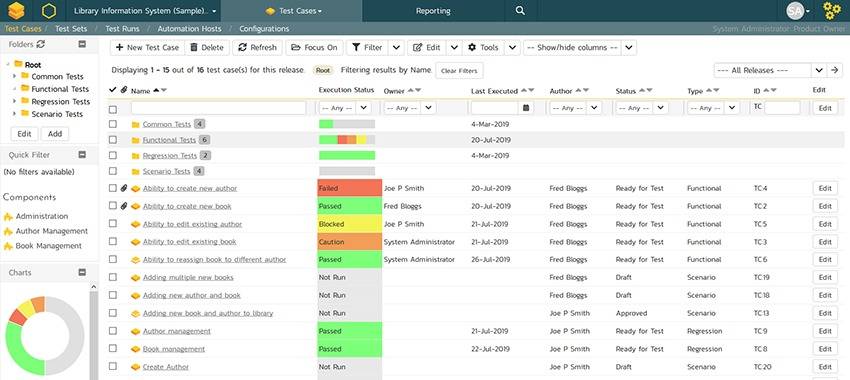 This is another popular tool in our best test management tools list. It has a plethora of useful features like project creation, assigning member role, creating test plans and test cases, requirement planning, test runs, report generation, bug trackers, , seamless integrations, and so on. . All these features play a huge role in facilitating the testing process.
Pros:
– Well-developed testing solution with an affordable price model.
– Cloud-hosted version is also available.
– Less time is spent in creating custom fields and assigning numbers to test cases, which increases efficiency.